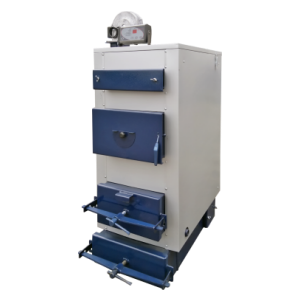 KWGR-GENERATOR boiler
KWGR-GENERATOR heating boiler is a new generation solid fuel boiler. Combustion process is stimulated by an induced air flow delivered by blowing ventilator which is controlled by microprocessor. Combustion process occurs vertically (so called upper-combustion). As a result of high temperature carbonization effect takes place. The remained gas is then after-burned in secondary air flow which is delivered to various levels of the combustion chamber by multiple point air jet system. KWGR boiler is produced in multiple variants as per order. Caution! Boiler does not need a chimney insert.
KWGR-GENERATOR is designed to heat water in the central heating system to the temperature not exceeding 900°C at the boiler's outlet. They are used in the central heating system and central hot water systems (gravitational or pump systems). KWGR boilers are designed for heating living quarters, warehouses, commercial halls, workshops, farm buildings, glasshouses, schools etc. Thanks to innovative construction, which influence boilers' efficiency (average efficiency 80-82%), as well as the use of fine coal as a basic fuel KWGR boiler is a great alternative for other coal, oil or gas boilers, as the costs of maintenance are smaller
Base for appropriate boiler selection is a thermal balance of the heated area created according to thermal standards for buildings. While selecting boiler for heating multi buildings systems it is recommended to calculate thermal balance. During calculation it is also important to take into account heat loss in the transmission system of the building. To select the most appropriate boiler for you please use our Assistant. In the chart below is technical data, which can be used for selection of appropriate size of the boiler. The given data is approximate and was estimated for rooms up to 3m height and heat loss of 110W/m2.Before making the final decision please remember to take into account 10% of boiler's power reserve in proportion to actual power requirement resulting from thermal balance calculation.
Specification
Unit
Type of the boiler
GR-26
GR-50
GR-65
GR-80
GR-90
GR-100
GR-120
GR-170
GR-220
GR-280
GR-350
GR-450
GR-560
GR-800
Nominal power
kW
12
20
27
36
45
56
75
110
150
190
240
300
380
550
Average maintance power in 24 hours system
kW
6
10
14
18
23
28
36
54
85
118
150
190
220
320
Single fuel charge
kg
25
40
55
75
90
115
220
350
480
600
780
960
1500
Thermal efficiancy
%
82-85
82
Max. working pressure
bar
1
1,5
2,5
Water temperature at the power supply
max.
oC
90
Water temperature at the return
min.
oC
50
Approximate size of the heated area at 0,1 kW/m2
m2
80-120
120-200
200-270
270-360
360-450
450-560
560-750
750-1100
1100-1500
1500-1900
1900-2400
2400-3000
3000-3800
3800-5500
Required flue gas drift
Pa
23
27
32
36
45
Min. chimney height
m
5
6
7
8
10
Min. cross-section of chimney
cm2
260
260
300
400
480
530
620
730
900
1100
1300
1700
2030
2400
Boiler's weight without water
kg
250
350
365
460
495
770
990
1100
1220
1600
2130
2640
3360
3950
Boiler's dimensions
width
lenght
height
mm
440
1115
1170
530
1190
1210
530
1280
1250
650
1300
1270
700
1310
1340
770
1350
1430
850
1630
1500
995
1810
1620
1025
2300
1620
1130
2470
1640
1290
2550
1790
1380
2985
1790
1535
3090
1970
1850
3700
2030
Diameter of spout and return
mm
50
50
50
50
65
65
80
80
100
100
125
150
150
150
Flue's dimension
width
height
mm
Ø160
Ø160
Ø160
180
220
180
220
200
250
230
260
250
250
300
300
300
300
350
350
400
400
400
450
450
450
Power supply
V
230 V/50 Hz
Basic fuel – Fine coal, MI sort, 25/9 class according to PN-82/G-97001
Substitute fuel – Hard coal, MII sort, 22/9 class according to PN-82/G-97001-3