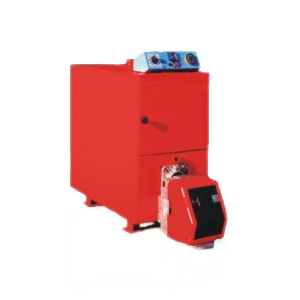 UKS-OLGAZ boiler
UKS-OLGAZ boiler despite its small size has very good heating parameters. This boiler is very efficient and does not occupy much space in the boiler room. UKS-OLGAZ boiler may be fed with gas fuel as well as fuel oil according to the burner used. Construction of the boiler enables easy burner assembly. Location of burner (on the front wall of the boiler) is a great advantage as it enables easy access to the burner in case of adjustment, maintenance or repair.
UKS-OLGAZ heating boilers have certification of compliance with energy efficiency criterion.
Emission and energy tests were conducted by:
– Institute of Heating and Sanitary Technology in £ód¼.
UKS-OLGAZ heating boilers are designed to heat water in the open central heating systems according to PN-91/B-02413 to the temperature not exceeding 900 °C at the boiler's outlet. UKS-OLGAZ heating boilers are designed for heating living quarters, houses, warehouses, commercial halls, workshops, farm buildings, glasshouses, schools etc. They can work in gravitational or induced systems.
Base for appropriate boiler selection is a thermal balance of the heated area created according to thermal standards for buildings. The nominal thermal efficiency should equal or be little higher (about 10%) than calculated heat requirement of the heated area. In the chart nr 5 below, No. 4, are information about size of area that can be heated by UKS-OLGAZ boilers. Given data is approximate and was specified for rooms of 3m height.
Specification
Unit
Type of boiler
OLGAZ 28
OLGAZ 65
OLGAZ 100
OLGAZ 200
OLGAZ 300
OLGAZ 500
OLGAZ 800
Nominal thermal power
kW
28
65
100
200
300
500
800
Boiler power
min.
max.
kW
14
30
40
65
80
115
160
220
280
320
450
570
750
880
Boilre's heating surface
m2
1,6
2,3
4,3
7,7
9,9
15,2
23,2
Size of the heated area
m2
200
460
720
1440
2160
3600
5760
Thermal efficency
%
91,5
90,4
Max. water pressure
MPa
0,2
0,3
max. water temperature
oC
95
Type of fuel
–
Light fuel oil, natural gas GZ 50, GZ 35
Fuel oil requirement at the nominal power
kg/h
2,8
6,2
10
21
30,7
54,7
82,5
Gas requirement at the nominal power
m3/h
3,4
7,3
12,9
24,7
36,4
64,8
97,8
Water capacity
dm3
70
90
160
290
380
590
900
Weight of the boiler without water
kg
165
205
380
580
970
1350
2060
Basic boiler's dimensions
lenght
width
height
mm
450
850
595
450
850
805
505
995
1070
665
1275
1070
695
1290
1650
770
1460
1930
900
1460
1930
Fuel recommended for UKS-OLGAZ boilers:
– Light fuel oil, natural gas GZ 50, GZ 35