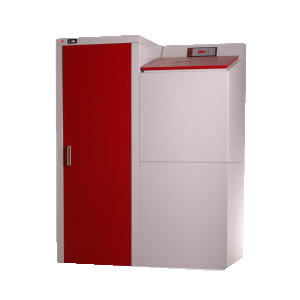 VITORET boiler
Water steel burner for solid fuel with sequential retort burner, intake hopper, automatic fuel feeding system and microprocessor controller.
Use:
VITORET boilers are a perfect heat source for single-family houses and small commercial buildings (80-250m2).
Main advantages for users:
Freedom of choice and assembly.
VITORET boilers have been designed to fully adapt to the requirements of their working space. Fast and easy dismantling to particular parts guarantees that VITORET boiler will be carried in to every boiler room without problems. Thanks to its symmetric construction user may choose, during the assembly, the side to which hopper will be situated (to the left or to the right side of the boiler). What is more, door fastening is also fully standardized and its positioned can be changed from one side to the other.
VITORET boilers has very good efficiency parameters regardless the fuel. Thanks to cooperation with biggest European coal producers VITORET boilers have been adapted to combustion of uneven quality fuel. The quality of these fuels, available in Poland, is below standards recommended by most of the boilers producers. Grid – Slid, Reto – Slue, and Con – Snail – technologies designed and patented by Varmo enable comfortable use and every day maintenance without problems regardless the available fuel.
Maintenance comfort
Automatic fuel feeding system (hopper refueled every 2 – 3 days) minimizes boiler maintenance problems.
Easy assembly and maintenance.
Hot water available 24/7 throughout the whole year thanks to cooperation with the c.w.u. hopper (optional). Boiler may also be used for heating water beyond the heating season.
Silent work.
Easy cleaning of the furnace shell.
Cleanness of maintenance. Cleanness of the boiler room.
Comfortable, fast and easy refueling of the hopper.
Permanent automatic combustion process.
Temperature adjustment from the room thanks to aneroid – type thermostat (optional).
Safe for children.
Double door guarantees full thermal segregation and prevents from direct contact with combustion chamber and thus prevent user from burns.
Aesthetic full furnace prevents access to any mechanical or electric devices. Ergonomic location of the controller prevents it from children.
Low costs of running. Fast costs reimbursement.
Possibility of relatively cheap fuel combustion.
High efficiency thanks to new generation of Varmo retort burner and perfect thermal insulation.
Accurate adjustment of boiler's power to current requirement thanks to high flexibility of work (10-30kW).
Maximum safety.
Full energy safety has been achieved owing to the use of retort burner which enables optimum combustion and co-firing / co-incineration of different fuel. Boiler's construction prevents from uncontrolled exhaust gas flow.
Number of precautions (patents) taken prevent fuel from firing outside the burning chamber.
Boiler may be equipped with iron fire grate, which in the event of power cut can be used for traditional combustion process.
Aesthetic design
Aesthetic look and care for details.
Timeless design.
Materials and components of best quality.
Registered utility design (form).
Balance between functionality and appearance
Aesthetic design
Aesthetic look and care for details.
Timeless design.
Materials and components of best quality.
Registered utility design (form).
Balance between functionality and appearance
Full control – retoSTER
VITORET boilers are equipped with advanced microprocessor controller retoSTER200 or retoSTER210 (with pump control system for c.w.u. hopper) which is responsible for combustion process and boiler's work.
Characteristics of the retoSTER controller:
– accurate temperature measurement
– smooth control of the blower's efficiency
– option of installation of room controller
– fire control facility which is essential in the tap water heating process and prevents
– fire from extinguishing in the boiler
– central heating pump and c.w.u pump control possibility
– easy access to temperature control system
– anti-freeze facility
– easy and comfortable maintenance
– clear working screen
Hot water akvoTank / akvoTank electro
Perfect supplement for VITORET boilers are hot tap water akvoTANKs (150l of capacity). Tank's design and dimensions are the same as the boiler body's (with the furnace). Thanks to ability of work at low parameters (10kW) VITORET boilers may be used beyond the heating season for the hot water purpose only. AkvoTANK electro version (130l of capacity) is equipped with an additional electric heater (2kW) which enables its temporal use as electric boiler (without turning on the heating boiler) in emergency cases.

Specification
Unit
Type of the boiler
vitoRET 25
Nominal power
kW
25
Power range
kW
10 to 30
Size of the heated area
m2
80 to 300
Fuel tank capacity
kg
150
Maximal working presure
bar
1,5
Required flue gas drift
Pa
23
Approximate chimney dimension
diameter
height
cm2
m2
300
6
Flue diameter
Ø
160
Spout diameter
mm
50
Weight of the assembly
kg
380
Boiler efficiency
%
82-86
maximal temperature at the power source
Max. temp. at the return
oC
90
50
Dimensions of the assembly
width
height
depth
mm
1140
1485
810
Power consumption
W
175
Power supply voltage
V
230
Boiler water capacity
dm3
116
Basic fuel:
– Pea coal
– Fine coal – M I class
Substitute fuel (for co-firing*):
– Fine coal – M II class
– Biomass fuel (pellets, sawdust, grain)
– Biomass friable fuel
* co-firing in the 60/40 proportion (60% of basic fuel)