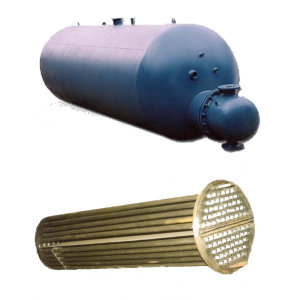 WP-6 storage heat exchanger
WP-6 storage heat exchanger belongs to the group called "tubular jacketed heat exchangers" in which factors that exchange heat flow in the opposite directions.
PRPA exchangers are used to heat water for social and industrial purpose, but it may also be used as a heat water tank.
Maintenance
WP exchangers are assembled horizontally and can operate at pressure up to 0.6 MPa. Coil in the device is exchangeable. The device is additionally equipped with magnesium anode.

Specification
Unit
Coil number
WP exchanger number
1
2
3
4
5
6
7
8
9
10
Overall length of the exchanger
mm
1275
1925
2230
2292
2722
2622
2556
3006
3656
4159
Length of the water tank
mm
862
1512
1816
1736
2166
2066
2000
2450
3100
3660
Length of the jacketed execution of the tank
mm
500
1150
1400
1220
1650
1500
1300
1750
2400
2900
Tank diameter
mm
612
612
716
916
916
1016
1216
1216
1216
1216
Spout diameter
Head diameter
A A1
B B1
O
mm
mm
mm
inches
273
48
48
R1
273
48
48
R1
273
48
48
R1
406
108
108
R1
406
108
108
R1
406
108
108
R1
406
108
108
R2
406
108
108
R2
406
108
108
R2
406
108
108
R2
P
mm
72
72
82
103
103
122
145
145
145
145
X
mm
423
423
423
576
576
576
576
576
576
576
Y
mm
762
762
866
1084
1084
1166
1386
1386
1386
1386
U
mm
250
575
700
610
825
750
650
875
1200
1450
Weight of the tank with the head
kg
124
188
254
387
448
476
634
740
888
998
Coil
heat exchanger surface
m2
1*
2**
0,5
0,7
0,8
1,2
1,3
2,2
1,8
2,7
2,2
3,3
2,6
4,7
3,36
5,75
4,3
7,1
5,5
9,0
7,2
11,2
weight of the coil without protector
kg
1
2
18,6
22,1
23,8
29,1
31,1
43,1
61,0
74,2
66,4
84,1
69,3
99,0
81,0
112,3
94,0
130,8
111,0
157,8
135,2
191,0
Heating system capacity
dm3
1
2
10,1
11,0
11,5
13,0
13,5
17,0
42,6
46,2
44,5
49,0
45,8
54,2
49,0
58,5
52,5
63,5
67,1
71,0
63,7
80,5
Nominal capacity of the water tank Vn
dm3
250
400
630
1000
1250
1600
2000
2500
3150
4000
Overall weight of the exchanger
kg
1
2
143
146
212
217
285
297
448
461
515
532
545
575
714
746
834
870
999
1045
1133
1189